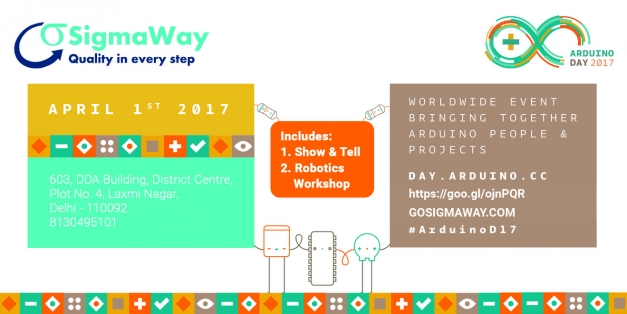 Arduino 4 Beginners

All right!!! So, here it is again, for the fourth time, Arduino have invited the open source community to join them in celebrating Arduino's birthday on Saturday, April 1st!

Arduino Day is a 24-hour-long worldwide event – organized by Arduino team and the community – where people interested in Arduino can get together, share their experiences, and learn more about the platform through all sorts of activities, tailored to local audiences. Participation is open to anyone, from young Makers and students to professional engineers and designers.

Here at Sigmaway, we are also celebrating Arduino Day with joy and excitement, we invite all the makes and enthusiasts or anyone interested enough in electronics and robotics to Join us.
Join us in this celebration……Build the future.
-----------------------------------------------

Investment for Students: Rs. 50 + 15% taxes
Investment for Professionals: Rs. 50 + 15% taxes
e-mail trainings@gosigmaway.com

http://www.gosigmaway.com/events for details and to register

1-1 April, DELHI, India
Unit - 603, DDA Building, District Centre, Plot No. 4, Laxmi Nagar, New Delhi - 110092

Contents: Arduino Introduction; Basics of Arduino Programming; Peripheral Interfacing, Building a Robot; Final Discussion

Eligibility: No pre-requisites.

For more information, contact
trainings@gosigmaway.com
+91 90011 02429
+91 88002 72235
+91 95822 05162
+91 90511 23334
www.gosigmaway.com